Miley Cyrus Enjoying Starbucks

Miley Cyrus checked in with her Twitter followers on Wednesday (August 5) after quenching her thirst with a Starbucks drink.
The Hannah MOntana star writes:
"A white chocolate mocha frap is all I need. Doo da doo lifes good :)"
Rachel Bilson and Hayden Christensen Are On

Rachel Bilson has denied reports she's split from fiance Hayden Christensen after she was photographed without her engagement ring.
The couple, who met on the set of the 2006 movie "Jumper," became engaged in December.
The pair has been dogged by rumors of a split in recent weeks and the former "The O.C." actress fueled speculation when she was recently spotted without her diamond band.
But her representatives have blasted the claims, insisting Bilson sometimes leaves her expensive jewelry at home.
A spokesperson tells the New York Daily News, "The engagement is on; she just doesn't always wear the ring."
Rachel Bilson – Out and about @ Santa Monica Blvd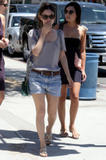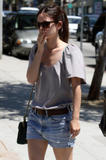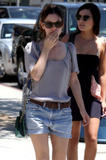 Source
Whitney Port Strips To Her Bra

Whitney Port ventured out for a bout of sunbathing in Central Park on Thursday afternoon.
She narrowly avoiding a wardrobe malfunction as her top began to rise up while sprawled out on the grass with a gal pal.